Breaking Verdict: Major Real Estate Commission Ruling - What It Means for California
Posted by Keisha Mathews on Tuesday, October 31, 2023 at 11:21:12 AM
By Keisha Mathews / October 31, 2023
Comment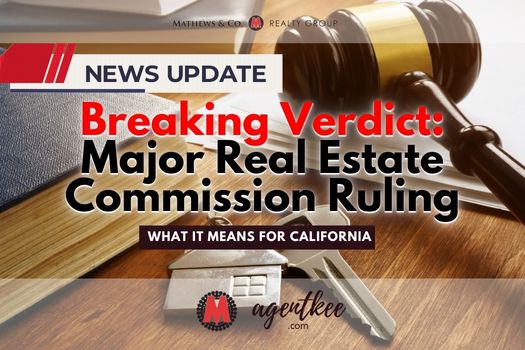 A recent court ruling out of Missouri is sending shockwaves through the real estate industry, and its ripples could reach all the way to California. Real estate information services company Housing Wire is reporting a Kansas City jury found the National Association of Realtors (NAR), HomeServices of America, and Keller Williams guilty of conspiring to inflate commission rates. The potential effects of this landmark decision are significant and far-reaching, and it's crucial for all of us in the Golden State to understand what this could mean for our market.
The trial, which lasted 11 intense days in a Kansas City courtroom, saw the plaintiff challenge the status quo of real estate commissions. Alleging that NAR's rules and practices led to price-fixing, the plaintiff argued that this resulted in artificially high commission rates, with buyer brokers being overpaid.
Despite the ruling, NAR remains steadfast in its defense. NAR President Tracy Kasper issued a statement affirming the organization's intention to appeal the jury's decision. According to Kasper, NAR's rules are designed to benefit consumers by fostering market-driven pricing and competitive business practices. The organization remains optimistic about prevailing in the appeal and is in the process of seeking a reduction in the damages awarded by the jury.
During the trial, NAR argued that its cooperative compensation rules for local MLS broker marketplaces were crucial in creating efficient, transparent, and equitable marketplaces. These rules, NAR contended, allowed sellers to gain more from their property sales and provided buyers with more options and affordable representation.
As the real estate community in California digests this news, several questions arise:
The Implications of the Appeal: While NAR gears up for an appeal, Californian real estate professionals are advised to maintain their current practices. Emphasis on transparency through buyer representation agreements remains critical.
Negotiable Commissions: The verdict brings to the forefront the importance of clearly communicating that commissions are negotiable and determined between brokers and their clients.
Future of Buyer Representation: The ruling does not necessitate an immediate change in rules. However, it underscores the importance of buyer representation, especially for those who cannot afford it upfront.
Financial Stability: NAR assures its capacity to handle the financial repercussions of the verdict and is prepared to see the appeal process through, confident in its eventual victory.
Rule Revisions: While steadfast in defending the consumer-centric nature of its rules, NAR is open to evolving them in response to industry shifts and consumer preferences.
Other Litigations: NAR maintains that this verdict is an isolated case and doesn't influence other ongoing litigations. The organization is confident in its legal standing and is ready for future appeals.
Legal Precedents and the Potential for Additional Lawsuits
This verdict sets a powerful legal precedent that might encourage similar lawsuits here in California. Our state's vibrant real estate market often leads the nation in trends, and this ruling could put industry players under the microscope, potentially leading to more litigation and settlements.
Rethinking Commission Structures
The way real estate commissions are structured might be due for a shake-up. If similar rules are applied here, buyer agents' commission rates might not be predetermined or published in the MLS anymore. This could result in more negotiation between buyers and their agents over commissions, possibly leading to lower rates.
Increased Costs for Buyers?
A flip side to this issue is that if buyers have to start paying their agents directly, it could add to the already steep costs of buying a home in California. This might especially impact first-time buyers, making home purchasing less accessible.
A Step Towards Market Transparency
On a more positive note, this ruling could foster greater transparency in our real estate market. Without fixed commission rates, we might see more competition among agents, potentially benefiting you with better service or lower rates.
The Impact on Agents and Brokerages
Real estate agents and brokerages might feel a financial pinch if commission rates drop. This could hit smaller brokerages or individual agents particularly hard, potentially affecting their profitability and operations.
Regulatory Reconsiderations
In light of the Missouri verdict, California's real estate regulatory bodies might revisit existing regulations. We could be looking at a comprehensive overhaul of the rules governing real estate transactions in our state.
Changing Consumer Behavior and Expectations
Knowledge is power, and as consumers like you become more aware of the implications of this ruling, it could lead to more cautious and informed interactions with real estate professionals. Expectations for more competitive commission rates and transparency might rise.
Innovation and New Business Models
Finally, this could be a catalyst for innovation within the industry. We might see new business models emerge that move away from traditional commission structures, like flat-fee real estate services or other alternative approaches.
What's Next?
While the immediate impact of the Missouri ruling on California's real estate market might not be instantly felt, the long-term implications could be transformative. As we await the final judgment and its repercussions, it's vital for everyone involved in our real estate market to stay informed and prepared for the potential changes ahead.