Building Small: A Vision for the Future of Real Estate
Posted by Keisha Mathews on Tuesday, October 24, 2023 at 9:10:27 AM
By Keisha Mathews / October 24, 2023
1 Comment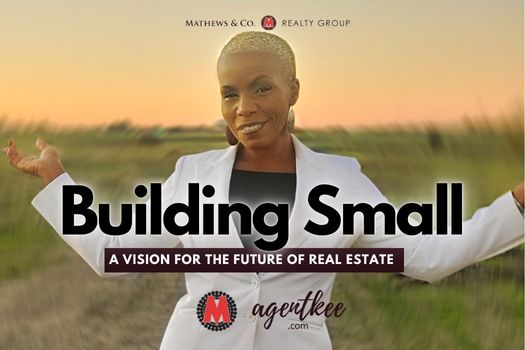 Greetings dedicated real estate enthusiasts!
I wanted to take a moment to share some exciting news and a significant milestone in my professional journey. As many of you know, for the past 20 years, I've been deeply embedded in the real estate sector, advocating for generational wealth, promoting the value of real estate investment, and emphasizing the importance of affordable housing.
This upcoming month, I have the unique opportunity to attend the "Building Small" conference by Jim Heid. While many might not be familiar with this event, it's shaping up to be a catalyst in the world of small-scale development projects.
So, why "Building Small"? The philosophy is simple yet profound. In a world where real estate trends are rapidly evolving, there's an increasing emphasis on creating sustainable, community-centric spaces that cater to modern needs while preserving the essence of local culture and ethos. This conference is poised to offer insights, strategies, and visionary concepts on achieving these goals.
The principle behind "Building Small" is both revolutionary and fundamental. At its core, it focuses on small-scale, incremental real estate development. But why is this approach gaining traction? It's because it fosters authentic places that act as magnets for new investment, attracts talent-based employment, and strengthens a resilient local economy. Such developments help communities stand out, drawing new investments in an increasingly competitive landscape.
However, as groundbreaking as this approach is, it doesn't come without its challenges. Entrepreneurial real estate developers who aspire to "build small" often encounter jurisdictional and capital inertia, making it challenging to bring these projects to scale. Jim Heid, through extensive research, has interviewed over 100 developers, toured numerous cities, assessed numerous case studies, and he paints a clear picture of the essence of small-scale development. He delves into its significance for communities, regardless of their size or location, and offers insights into overcoming the inherent challenges.
As I gear up to attend the "Building Small" conference by Jim Heid next week, I'm filled with anticipation and enthusiasm. I'm collaborating with a fantastic team — contractors, architects, and industry leaders — on projects that echo the "Building Small" ideology. Our mission? To integrate the "Building Small" ideology into our projects, creating opportunities that would reshape our local real estate landscape, particularly in Sacramento and its adjoining regions.
Given the collaborative nature of this platform and my commitment to community engagement, I'd love to hear your thoughts. What do you envision as the future of real estate? What areas or opportunities should we prioritize? Your feedback, as always, will be instrumental in guiding our strategic decisions.
The journey of a thousand miles begins with a single step. With "Building Small", we hope to take giant strides in real estate innovation, ensuring a brighter and more sustainable future for all.
Looking forward to hearing from you, and stay tuned for more updates from the conference!